HAPPY FRIDAY!
You know what that means. It's Five Loves time! Excited to share a handful of things that made this a week to remember!
1. My cousin's little cutie pie turned One!
He and his wife threw her
a fun
Very Hungry Caterpillar
themed party! They created their own awesome party decorations, and had a craft table where the kiddos could create too. It was such a sweet celebration of the littlest and most adorable member of our family!
Family Flashback Time! ...
See how happy I was to be celebrating his 1st Birthday? (I'm the much younger and cuter version of myself in the orange and white striped shirt.) I was every bit as delighted to celebrate his daughter's 1st, last weekend! Thankful for my family and all the memories we've created together, old and new.
2. My hubby's 35th Birthday was Sunday!
Princess created him the most personalized card ever! I mean, c'mon, you can't find guitars and Star Wars references together on the same card at Hallmark. Little One gave him carrot cake cupcakes, which were immediately enjoyed before I snapped a pic ... Oops!
We continued the celebration with a nice evening at the lake complete with takeout from Qdoba Mexican Grill and quality time with Bambi.
It's hard to believe that this was the 16th Birthday I've celebrated with my Mr.! In 5 more years and we will have celebrated HALF of our birthdays together!
3. Surprise packages are the BEST!
*BBF = Best Bloggy Friend ;)
Looking forward to sharing the details of this thoughtful package on Monday! Hope you'll be back to hear all about it!
4. Mom/Daughter Shopping Trip!
Her future's so bright she's gotta wear shades.
To see if you've guessed correctly check the answer key photo at the end of the post!
:)
5. FEATURES!
TO: YOU, my lovely readers & dear friends!
This week marked Chatting Over Chocolate's 5th Month Blogiversary!
THANK YOU
for reading, commenting, pinning, following, connecting with my blog in any way! The comments I receive saying that my posts are enjoyed, make it more than worth the time and effort to create and share them with you! Can't wait to see what the next 5 months bring! Hope you'll stick around to find out! ;)
Did you guess correctly?
I should also mention that her stylish new fashion gloves will also be seen on runways driveways throughout Paris our block all season. She's such a trendsetter, this one! ;)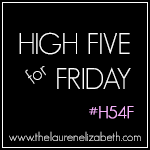 Don't miss a bit of the Summer Fun at
Chatting Over Chocolate!:
Google Friend Connect, or have each new post delivered directly to your inbox!
*To join via GFC or subscribe via email see left sidebar of blog ;)
Thanks for stopping by! Don't be shy. Please say, "HI!"