I'm so excited to get my hubby in on the fun in this month's BBB!
Ready to hear from the boy behind my blog? Ok, Q & A time, Jason!
1. If you could live anywhere, where would you live?
Florida, where there's lots of sand and Disney World.
2. Sand or snow?
Sand, where there's lots of Florida.
3. What Winter Olympic sport would you rock at?
Bobsled, not in sand or in Florida.
4. You're cooking a romantic dinner - what is your go-to dish?
SO YUMMY!
For the recipe & sweet story behind his delicious creation,
visit this post:
5. Fill in the blank: This year, I gave my wife a ______ for Valentine's Day.
I was absolutely giddy over this "sweet" gift!!!
"'Here's My Heart' Chocolate Tower" Included:
Harry London Milk Chocolate Covered Grahams
Ghiradelli Dark Chocolate 60% Cacao Squares
Lily O'Brien Milk Chocolate Truffles
White Fudge Covered Heart Pretzels with Sprinkles
The Popcorn Factory Butter Toffee Popcorn
... I'll be sharing more on our Valentine's Day weekend in my Five Loves on Friday post! :)
Wanna hear more from Jason ...& Florida? ;) Check out his new YouTube Channel,
Eat, Sleep, Dis, Repeat!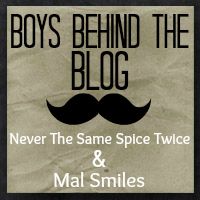 ...If you're visiting from the link up, be sure to say, "Hello!" I'd love to come check out your lit'l Q&A post too! ;)
Make sure you don't miss a thing at
Chatting Over Chocolate!
F
ollow on
Facebook
,
Bloglovin'
,
Pinterest
, Polyvore,
Google Friend Connect, or have each post delivered directly to your inbox!
*To join via GFC or subscribe via email see left sidebar of blog ;)
I appreciate each comment, & Facebook "like"!
They let me know that you enjoyed what you read, which makes it worth sharing! ;)